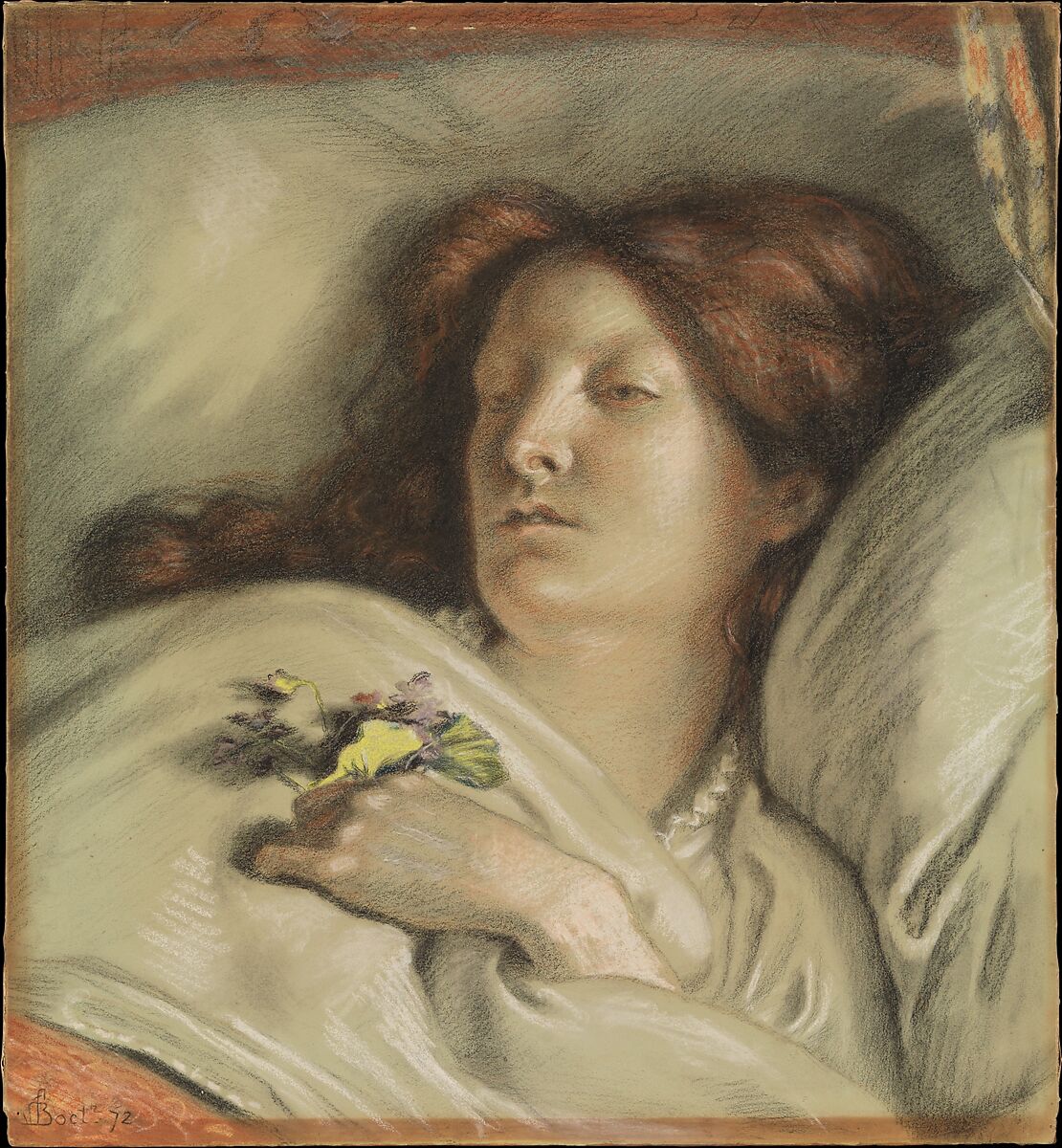 If I was going to pinpoint the reason for why I was inspired to write The Story of Divorce, I guess, to some extent, I am going to have to blame Dickens. But before we get to the inimitable novelist and the reason why he was responsible for my obsession with the stories underlying the development of divorce laws in England, I need to take you all back with me to the oppressive heat of a New York summer in 2014. I was in 'the Met', and came across a painting that I could not forget.
Called The Convalescent, it was painted in 1872 by Ford Madox Brown, an English painter often referred to as the father of the Pre-Raphaelite Brotherhood. The woman in the painting was his wife. His second wife. Her name was Emma. Something about her captured my interest. I was drawn to her, although I had no idea why, but I felt an inexplicable affinity with her. She lurked in my mind, haunting me like a restless spirit, long after I had left New York, and I started reading everything I could about her. And as I read, I realised that I must have seen something in Emma, this woman in the painting, that I recognised in myself. Her story resonated with me. You see the reason that Emma lies in her bed so desperately ill in the painting is that she was a woman struggling with the demons of a reliance on alcohol. It was killing her. And yet, she could not stop drinking. Underlying her alcoholism was a deep melancholy that I soon came to believe stemmed from her unhappiness within her marriage. And that was something that I recognised, even if I was not yet ready to admit that to myself.
Over the course of their marriage, Emma's husband had a deep love for at least two other women, and Emma always struggled with the knowledge that Ford had married her somewhat reluctantly, perhaps out of a sense of guilt over the illegitimate child he had fathered with her. She was insecure, constantly battling her conviction that she was not, and would never be, good enough for her husband. As I struggled with demons of my own, Emma's story became my obsession, my focus, and as I researched her life, I realised that I wanted to tell her story.
I started writing, the words pouring out of me, her story transforming from something ephemeral in my mind to something more corporeal, fleshed out on the page. Some 90,000 words later, I had what would become my first (as yet unpublished) novel.
Writing Emma's story stirred something in me, woke up a latent creativity that I had buried deep within my soul. I saw stories all around me, and the stories that entranced me were the ones where the women were silenced, voiceless, drifting like clouds in the background of male history. Perhaps I was drawn to these women because their stories sang to me as I was struggling within the confines of being with someone where I needed to silence my own words, censor myself, in order to keep the peace in what I still did not want to admit was a difficult relationship. But I did know that I wanted to keep writing.
Having written one book, I knew I could write another. Indeed, I had the seeds of many books already taking root in my heart. But what I needed was another project that would consume me to the extent that The Convalescent had. I was still seeking an escape from my own realities, my own failed relationship. And while I was busy looking for the key that would free me from the dungeon of my own malaise, I came across a post on social media. I didn't know it at the time, but it would take me in a whole new direction, one that would ultimately start me on the path to The Story of Divorce.
I had been following a number of Victorian academics on social media. One of those was Judith Flanders. I have pretty much read all of her books, including one on London in the nineteenth century, and her book on everyday life in the London of Dickens. She posted on social media that she would be a speaker at a seminar for the MA offered by the University of Buckingham in Dickens studies by research. I have long been a Dickens enthusiast and was attracted to the idea of returning to study his works but, and I almost hate to admit it, I enrolled in the course predominantly so that I could hear Judith Flanders speak.
The MA is quite possibly one of the most daunting and challenging things I have done in recent times. I had last graduated from university in 1996. I wasn't sure I was up to the test of writing academically again, but I decided to believe in myself, and more importantly to put myself first and pursue my love of Dickens and the nineteenth century.
Other than leaving my marriage, this was one of my better decisions in recent years. The MA gave me many things. It gave me an entrée in the academic world of Dickens. It gave me another degree. It also gave me the idea for not just one more book, but two. One of those books was another novel, which drew on Dickensian themes and devices to tell the story of a woman who attempted to drown herself in the Thames. Dickens seemed to have a fascination with women throwing themselves into the unforgiving dark waters of the Thames, and the deadly allure of the river was often portrayed as particularly potent for his fallen women, such as Nancy from Oliver Twist or Little Em'ly from David Copperfield. My second novel also follows the trajectory of a woman escaping a failed marriage, and the betrayal and infidelity that led to the failure of her marriage. It would be fair to say that I drew on my own feelings of regret, humiliation and shame as I wrote that book. My husband too, had a gift for adultery. That novel, like The Convalescent, resides in the metaphorical drawer. But my next book, The Story of Divorce, was also seeded in the research that I undertook for my thesis for my MA. I believe that this is a story that needed to be written.
The MA required me to write two papers, including a thesis. If you are at all familiar with the vast array of scholarship surrounding Dickens you would realise that there is an almost endless choice of topics on which to focus your research. However, despite the Aladdin's cave of options I considered, it didn't take me too long to decide on a topic for my thesis. I think given the failure of my marriage, and my divorce, the topic of divorce was one that I felt drawn too, as if in somehow understanding it more it would give me some sort of peace as I struggled to reconcile my sense of failure over my divorce against my conviction that it was absolutely right to bring my marriage to an end.
My resulting thesis was entitled The Twisting of the Ring, and it explores Dickens's evolving views of marriage as can be seen in both his life and literature in the context of divorce law reform of the 1850s and the failure of his own marriage. As it happens, Dickens, despite being the renowned novelist of hearth and home, was not a particularly good husband. In fact, he was calculating and cruel in the way that he treated his wife Catherine as his marriage fractured, abandoning her after twenty-two years and ten children together, so that he could pursue an affair with an attractive actress, a woman young enough to be his daughter.
My research revealed just how narrow divorce laws have historically been in England, and how difficult, if not impossible it was to get a divorce, especially for a wife. As I read the stories of women such as Ann Dawson, Lady Westmeath and Caroline Norton, I could only be grateful that their suffering, their activism, or even just their lived experience has contributed to the accessibility of divorce laws. Because, in the end, the divorce laws that are in existence in the twenty-first century have evolved because of women such as them. Their miserable marriages were played out for a public that responded with outrage and a demand for reform.
I, and many others like me, have been able to extricate ourselves from dying marriages, separate from spouses who abuse, who cheat, who betray our love and our trust. The law no longer requires us to stay shackled to the corpse of a marriage that has festered and decayed. It allows us freedom.
When we marry, we do so with love, with hope in our hearts, our future bright with optimism, certain in our future. As David Copperfield said on embarking on the path to the matrimonial altar:
I suppose we had some notion that this was to end in marriage… But in our youthful ecstacy, I don't think that we really looked before us or behind us; or had any aspiration beyond the ignorant present.
It is now estimated that approximately 42% of marriages will end in divorce, according to the Report into Divorces in England and Wales prepared and released by the Office of National Statistics in September 2018. Divorce was my story, but it is also a story that affects us all.